County Market
Recipes
https://www2.mycountymarket.com/Recipes/Detail/8028/Momma%60s_Morning_Casserole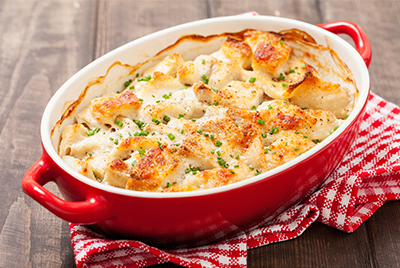 Momma's Morning Casserole
Yield: 6 to 8 servings
Preparation Time: 15 min; Cook Time: 20 min
Ingredients
1
pound

Sugardale bacon

1

green onion, chopped

1

red bell pepper, seeds removed and diced

12

large Dutch Farms eggs

1
cup

milk

1
package

Mr Dell's hash browns, thawed

2
cups

shredded cheddar cheese
Directions:
Heat the oven to 350 degrees F

Grease a 13x9- inch baking dish with nonstick cooking spray and set aside.

In a large skillet, cook bacon over medium heat, stirring occasionally. Cook until crispy. Remove bacon and place on a paper towel lined plate. Roughly chop the bacon and set aside.

Add the green onion and red pepper to the skillet and cook over medium heat until tender. Set aside.

In a large bowl, beat the eggs and whisk in the milk. Stir in the cooked vegetables, thawed hash browns, and 1 cup of the shredded cheese. Set 3/4 cup of bacon aside and stir in the rest. Season with salt and pepper to taste.

Pour the mixture into the prepared baking dish and top with remaining cheese. Bake for 20 minutes so the eggs start to set up. Carefully add the remaining bacon to the top of the casserole. Bake for an additional 20 minutes or until the eggs are firm and the top is slightly golden brown. Let stand for 10 minutes. Cut into squares and serve warm.

Please note that some ingredients and brands may not be available in every store.
County Market
Recipes
https://www2.mycountymarket.com/Recipes/Detail/8028/