County Market
Recipes
https://www2.mycountymarket.com/Recipes/Detail/8013/Uncle_Joe%60s_Best_Ever_Pork_Chops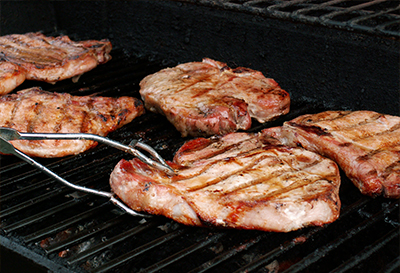 Uncle Joe's Best Ever Pork Chops
Yield: 4 servings
Preparation Time: 5 min; Cook Time: 15 min
Ingredients
4

pork chops (about 1/2 inch thick)

2
cups

Uncle Joe's Sauce
Directions:
1. In deep bowl, pour sauce over pork chops

2. Marinate in refrigerator for about 8 hours

3. Remove from marinade and cook over medium-high heat on greased grill for no more than 15 minutes or until done. Cooking time for second side is shorter by 1 to 2 minutes. DO NOT OVER GRILL, chops will become tough. After 2 minutes grilling each side, rotate chops 45 degrees for even cooking. Turn over when juices pool on upper surface and meat appears to be cooked half-way through.

4. Reapply sauce to chops before serving.
Please note that some ingredients and brands may not be available in every store.
County Market
Recipes
https://www2.mycountymarket.com/Recipes/Detail/8013/