County Market
Recipes
https://www2.mycountymarket.com/Recipes/Detail/8009/Super_Simple_Shrimp_Tacos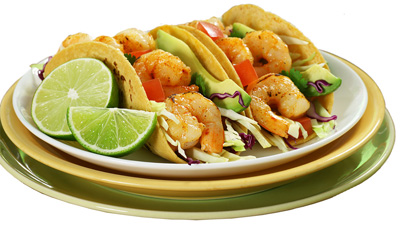 Super Simple Shrimp Tacos
Difficulty: Super Simple
Yield: Serves 4
Preparation Time: 10 min; Cook Time: 10 min
Ingredients
1
pound

Florida Pink Shrimp, defrosted, peeled and deveined

6
ounces

Prairie Farms Sour Cream

1/4
cup

chopped cilantro

2
Tablespoons

fresh lime juice

1/4 - 1/2
teaspoon

cayenne pepper

1/2 head

cabbage, thinly sliced (about 5 cups)

8

La Bandita Flour Tortillas

4
teaspoons

extra virgin olive oil
Directions:
1. Heat tortillas over medium heat in a dry skillet until warm and starting to form small brown spots. Set aside on a plate covered with a clean kitchen towel.

2. Mix sour cream, cayenne, lime juice, cilantro and salt in a small bowl, set aside.

3. Heat two teaspoons of olive oil in a medium non-stick skillet and add cabbage. Cook for about four minutes or until the cabbage is just barely wilted. Season with salt and pepper and set aside.

4. Cut shrimp into thirds, so you have little bite size pieces. Saute in two teaspoons of olive oil and season with salt, pepper and a dash of cayenne pepper over medium heat just until done. They cook up in just a few minutes... so be sure to watch them!

5. Build your taco! Place a scoop of cabbage on the warmed tortillas taco, then top with shrimp and cilantro sauce... enjoy!
Please note that some ingredients and brands may not be available in every store.
County Market
Recipes
https://www2.mycountymarket.com/Recipes/Detail/8009/