County Market
Recipes
https://www2.mycountymarket.com/Recipes/Detail/6299/Bacon_Wrapped_Chicken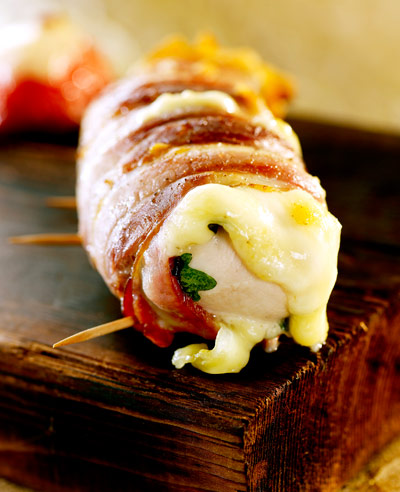 Bacon Wrapped Chicken
Yield: 4 servings
Ingredients
4

boneless skinless chicken cutlets

Salt

Pepper

4
slices

Jarlsberg cheese

8

thin slices bacon

1
bunch

arugula (rocket salad)

You'll also need:

Wooden skewers
Directions:
Season the chicken with salt and pepper and top with Jarlsberg cheese and arugula.

Roll up the chicken cutlet, Jarlsberg cheese and arugula. Wrap two slices of bacon around each chicken roll and secure with two or three wooden skewers.

Grill or broil the chicken for about 4 minutes on each side. Let rest for a couple of minutes before serving.
Photo and Recipe Used with Permission from TINE BA - www.jarlsberg.com

Please note that some ingredients and brands may not be available in every store.
County Market
Recipes
https://www2.mycountymarket.com/Recipes/Detail/6299/Bacon_Wrapped_Chicken